In my view, the contemporary art market was invented by two principal protagonists, between whom the exceptional gallery owner René Drouin was the subliminal link. In reality, the direct relations between Leo Castelli and Michel Tapié – the two people in question – were but few and far between.
Castelli, who was briefly an associate of Drouin's, contributed considerably to the hegemonic expansion of the United States, where he arrived as a refugee at the beginning of the Second World War.
Having been for a time Drouin's artistic adviser, Tapié, for his part, laid the groundwork for a commercial system which prevailed as long as it remained at the service of the artists – that is to say, up until a recent date at which, by a sort of premature inversion of the norms, certain artists decided to put themselves at the service of the system.
Tapié's publication Un art autre, written in advance of the 1952 exhibition of the same name at the Studio Facchetti, will for all time be the manifesto of this system.
Over and above the notion of 'informel' that he theorises, and which should no doubt be defined (even questioned, if we were art historians – which at the gallery we are not!), Tapié has at his disposal – first with Drouin, then Facchetti (Studio Facchetti), Larcade (Rive Droite Gallery), and Stadler (Stadler Gallery) – a set of rules that we would today call 'marketing'. By these rules, art was destined for the international stage, where the curator was supposed to guide tastes and forge links between artists, dealers, collectors, and institutions, and where publicity and public relations (underpinned by the publication of catalogues-cum-art books) and exhibition design, as well as the propagation of press articles, would also be the tools used for the essentialisation of criticism as the cornerstone of the objectification of a creativity revealed and of necessity destined for posterity.
Objectification? I might as well confess that it was neither Tapié's critical apparatus nor his literary style that led me to foresee the tenor of this exhibition.
Posterity? Of the more than 180 artists said to populate 'Tapié's stable', and whom Juliette Evezard identified for her thesis,[1] many have been lost to memory. More or less than usual? I can't tell.
As for Tapié's capacity for having identified and sometimes made famous a few of the most important visual artists of the twentieth century, it seems to me that he had very few alter egos.
It is to this Tapié, to this 'Great Eye' if ever there was one, that through this (hopefully rigorous) selection of works by artists dear to us – a painter per painting – we desired to pay homage in an exhibition to be held at Fiac from 18 to 21 October 2018, then at our Rive gauche gallery from 27 October to 22 December 2018.
A catalogue will be co-published with Skira. Three very detailed essays written by Juliette Evezard, Ph.D. in the History of Art, Baptiste Brun, Ph.D. in the History of Art, and Edouard Lombard, Director of the Comité Georges Mathieu will be included in this book. My three forthcoming posts will propose a preview of these texts…
Franck Prazan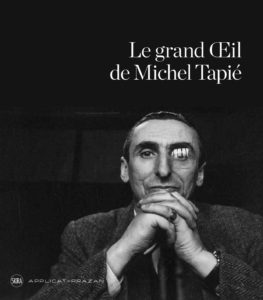 Le grand Œil de Michel Tapié, 80 pages, 29 €, Co-publishing Applicat-Prazan / Editions Skira Paris, Design Communic'Art, Distribution Editions Skira Paris
© Applicat-Prazan, © Éditions Skira Paris, 2018
ISBN 978-2-37074-086-1, Registered May 2018, Printed in Belgium by Geers Offset, Photos © Art Digital Studio, Photo cover © Arnold Newman/Getty Images
___________________
[1] Juliette Evezard, 'Un art autre: Le rêve de Michel Tapié de Céleyran, il profeta de l'art informel (1937–1987): Une nouvelle forme du système marchand – critique', thesis defended 16 January 2015, supervised by Th. Dufrêne, Université Paris-Ouest-Nanterre-La Défense, forthcoming.