FRANCK PRAZAN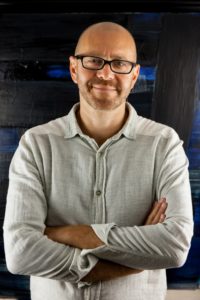 Franck Prazan (born 1966) is a French post-war art dealer. He has managed Applicat-Prazan since 2004. Previously, he was Managing Director of Christie's France.
Read his biography in Wikipedia.
Read his biography in Who's Who.
Photo Thomas Van Nguyen / © Applicat-Prazan, Paris
APPLICAT-PRAZAN
Applicat-Prazan is an international modern art gallery, leader on its market and located in Paris.
Applicat-Prazan's philosophy is as follows:
• Hyper-specialization which has led the gallery to concentrate uniquely on European Post-war and on the most significant Artists of this period : Jean Dubuffet, Jean Fautrier, Hans Hartung, Jean Hélion, Asger Jorn, Wifredo Lam, Alberto Magnelli, André Masson, Georges Mathieu, Serge Poliakoff, Jean-Paul Riopelle, Pierre Soulages, Nicolas de Staël, Maria Elena Vieira da Silva, Wols, Zao Wou-Ki, …
• Hyper-selectivity – confining the gallery's choice of paintings to those we judge to be the most qualitative
• A policy specifically adapted to the private collector who by definition takes a long term view of things, smoothing out the effects of speculation.
Applicat-Prazan exhibits at Tefaf Maastricht, Art Basel Hong Kong, Tefaf New York Spring, Art Basel, Frieze Masters, FIAC and Art Basel Miami Beach.